by Emanuel Leutze (German-American, 1816-1868)
Following his fourth voyage across the Atlantic, Columbus is depicted here as a prisoner in San Domingo on what is today the Dominican Republic where he had been charged with administrative misconduct on the basis of testimony that he had tyrannized Spanish settlers in the New World. Columbus was returned to Spain an exhausted man. In this painting by Emanuel Leutze, Columbus is shown being returned to Cadiz in chains—surrounded by natives, settlers and others—where he will be imprisoned and would remain for six weeks before being freed by King Ferdinand.
Famous for his evocative and action-filled scenes from American history, Leutze was brought to America as a child and then returned to Germany as an adult to study art. A strong supporter of Europe's revolutions of 1848, he painted an image of the American Revolution to inspire European reformers. His painting of "Washington Crossing the Delaware" has become iconic in itself. Commissioned by Congress in 1860 to depict a scene of the settlement of the west, Leutze painted "Westward the Course of Empire Takes Its Way."
This painting of Columbus, one of Leutze's first major pieces and one that hung at the entrance to the United State Secretary of State's office, was completed in 1842 before his return back to the United States.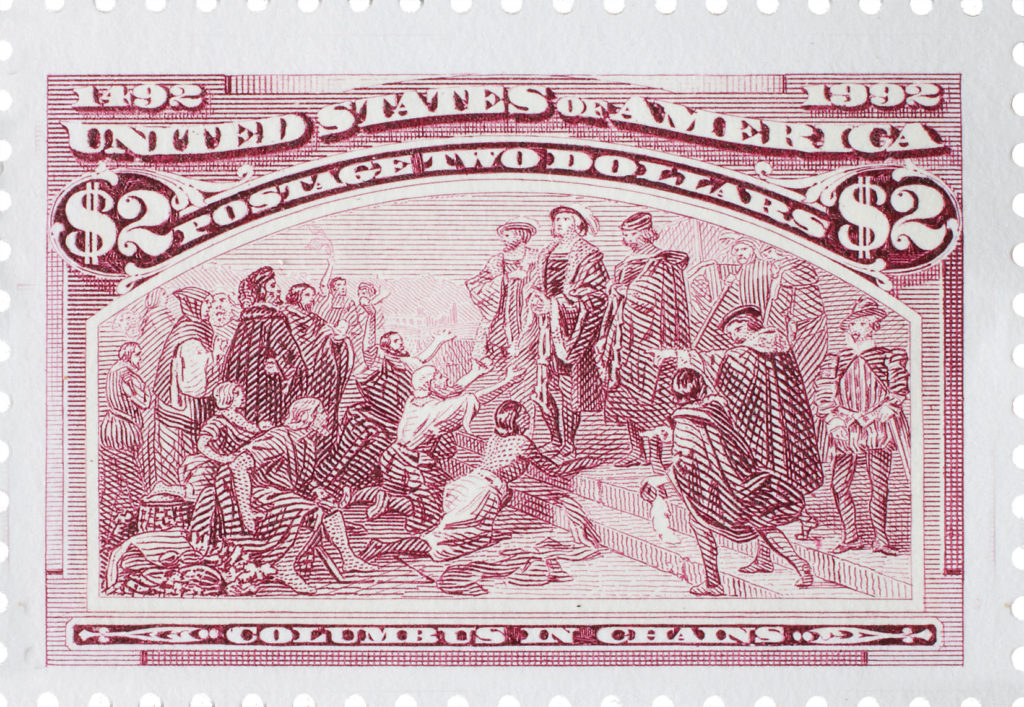 In 1892 the United States Postal Service used this painting for its stamp commemorating the 400th anniversary of Columbus's first visit to the Americas. The $2 stamp would have paid for expensive heavyweight foreign-destination rates.  American Bank Note Company printed 45,550 stamps of this issue.