In these challenging times, we all could use a bit of humor.  The Pamplin Collection has many paintings, prints, and posters that illustrate humorous events and lives.  Here are just a handful.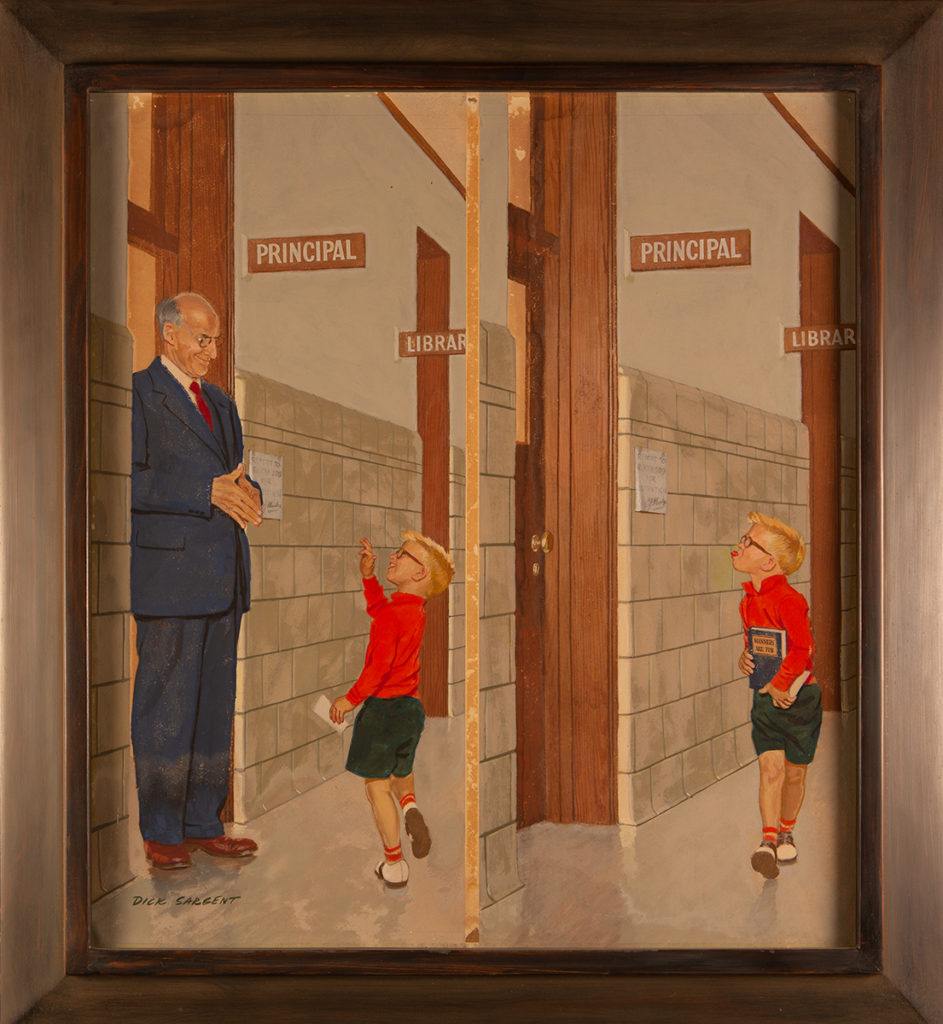 Boy and Principal
Boy and Principal, by Richard Sargent (American, 1911-1978), Saturday Evening Post cover for February 7, 1959. Here, Sargent captures the two sides of a young man who's likely been sent to the library to retrieve a book on manners. The painting works well in illuminating an era of American education. Sargent just pre-dated the advent of photography in illustrating stories. During his few years with the magazine, he was one of the Post's most-prolific illustrators, though also doing work Fortune, Woman's Day, Photoplay, and American Magazine.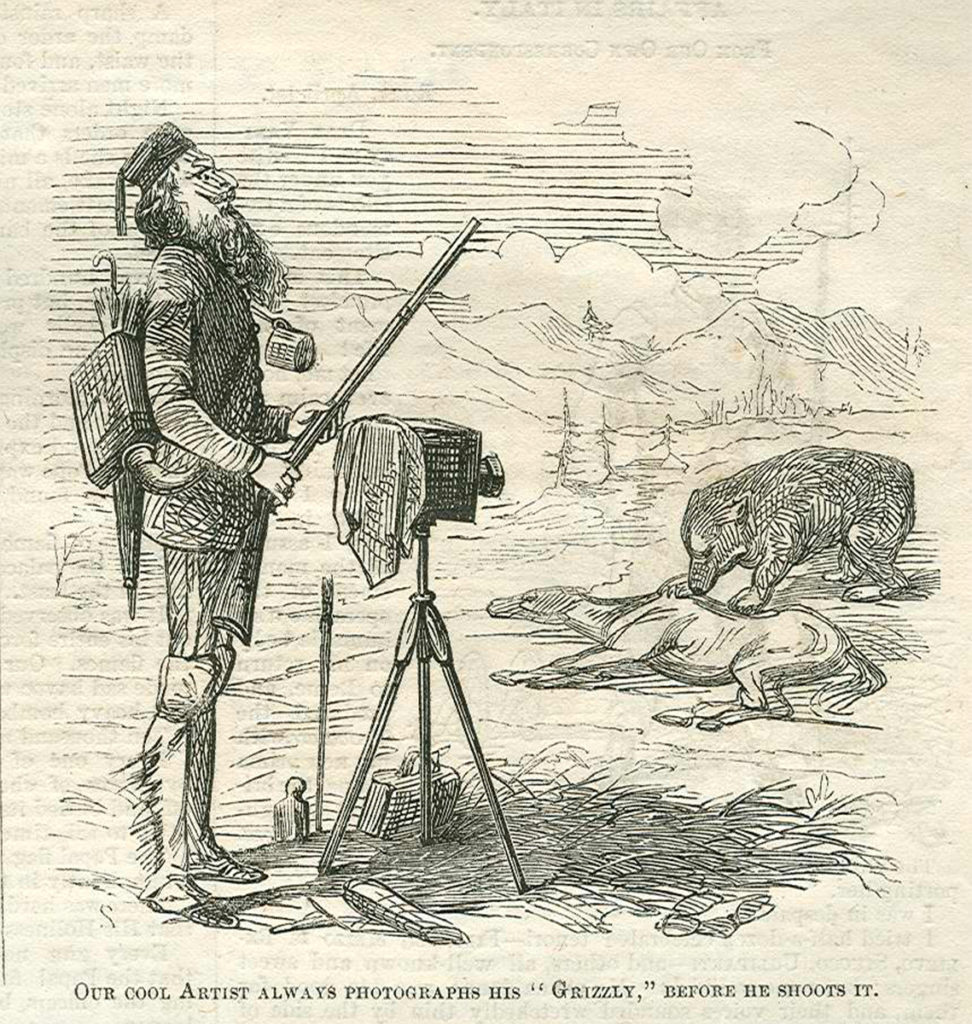 The "Shootist"
Lithograph taken from a page of a Civil War era magazine. The caption reads: "Our Cool artist always photographs his "Grizzly" before he shoots it. A pun on the words Grizzly and shoot. The cartoon shows photographer in Zouave uniform behind his camera just after "shooting" the bear.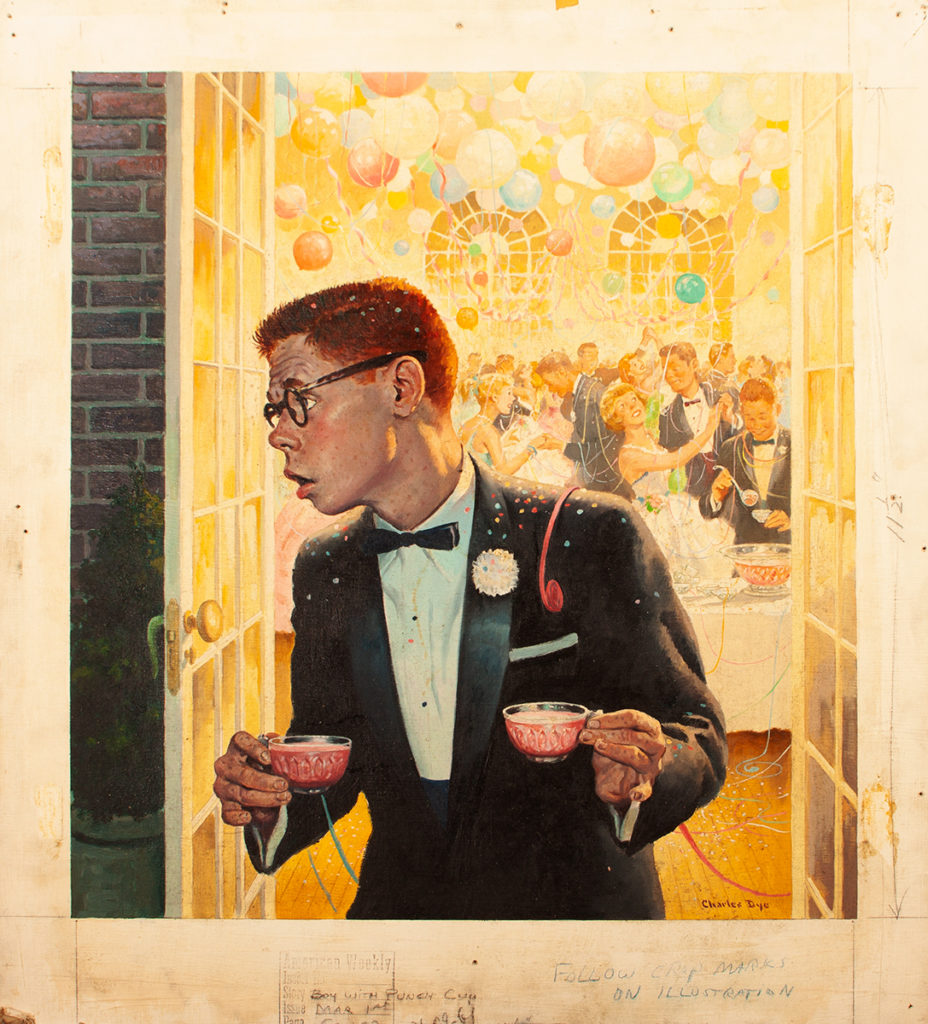 "Where's My Date?"
Born in Canon City, Colorado, Charlie Dye (1906-1972) became a painter of western genre inspired by the work of western artist Charles Russell. "Where's My Date?" was painted as a cover for American Weekly. It clearly shows a young man, both hands full of punch glasses, in obvious trouble with his prom date, whom we can only surmise has taken off with another date.
From childhood, Dye was a sketcher, but it wasn't until a horse fell on him that he considered art as a career. In the hospital recovering from his injuries, he saw reproductions of Russell's paintings in a magazine, and that exposure set his career of portraying the lives of cattlemen.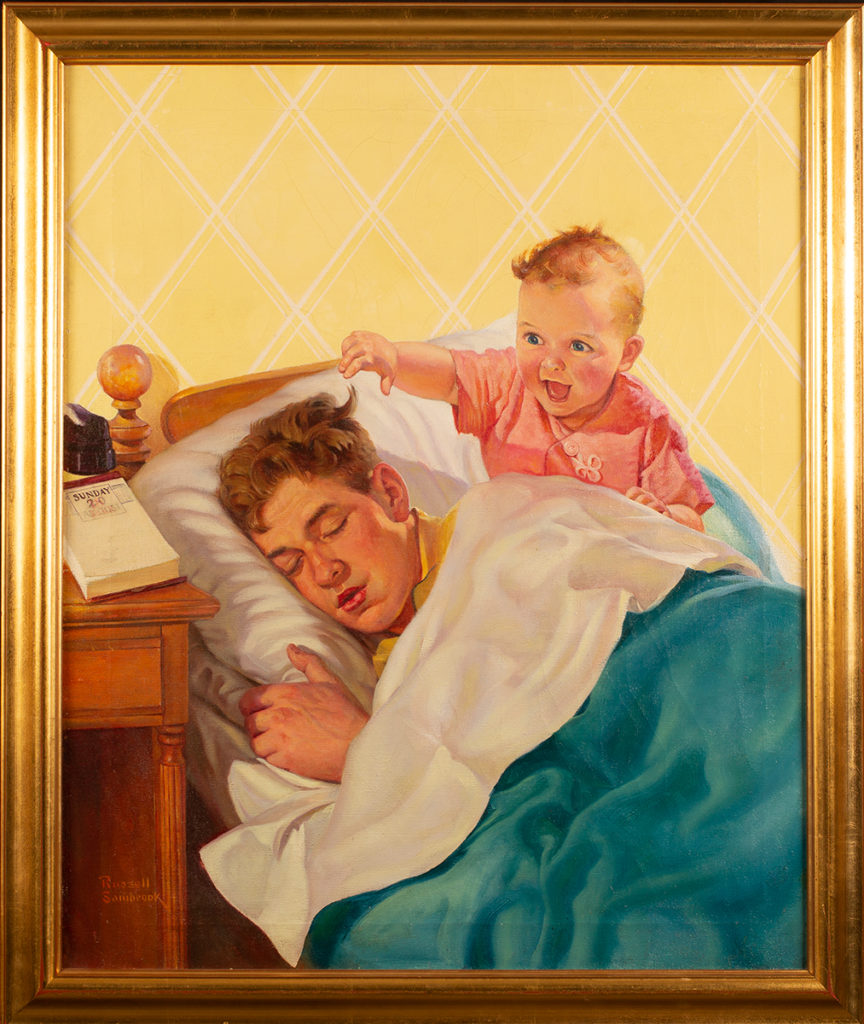 Almost Got It
Almost Got It, a This Week Magazine Father's Day cover, June 18, 1939, by Russell Sambrook (American, 1891-1956). Illustrators like Sambrook fill in the gap between the age dominated by J. C. Leyendecker (whose work the Pamplin Foundation also has) and the renaissance of Americana seen through Norman Rockwell's eyes. Sambrook's approach to visual design and sense of stagey humor owe a great deal to his predecessors.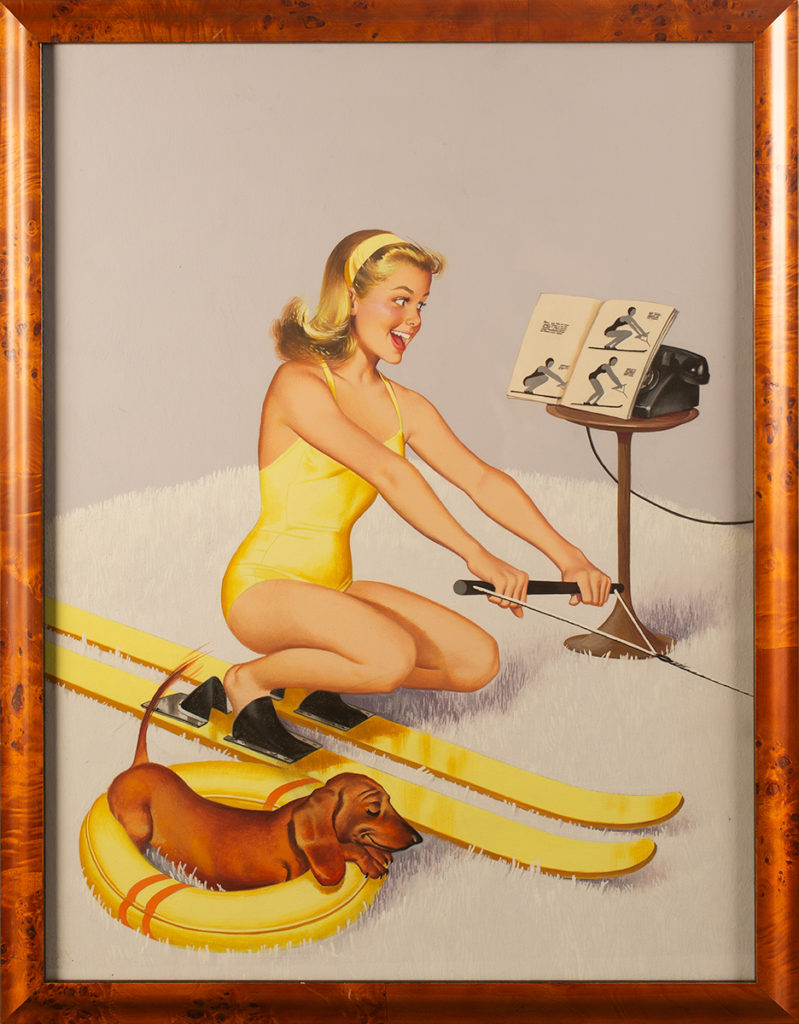 "You Can Learn to Water Ski"
Cover art for "You Can Learn to Water Ski," in the July 1961 issue of Calling All Girls, by Freeman Elliott. Born in 1922 in a suburb of Chicago, Elliot's early work appeared on Brown & Bigelow's successful Ballyhoo Calendar, along with that of Esquire. Millions of Americans saw his pinups on the covers of Hearst's Pictorial Weekly during the 1950s. Though often amusing, his pinups could also be sexy and sensual. His career encompassed front covers for national magazines, story illustrations, and advertising art.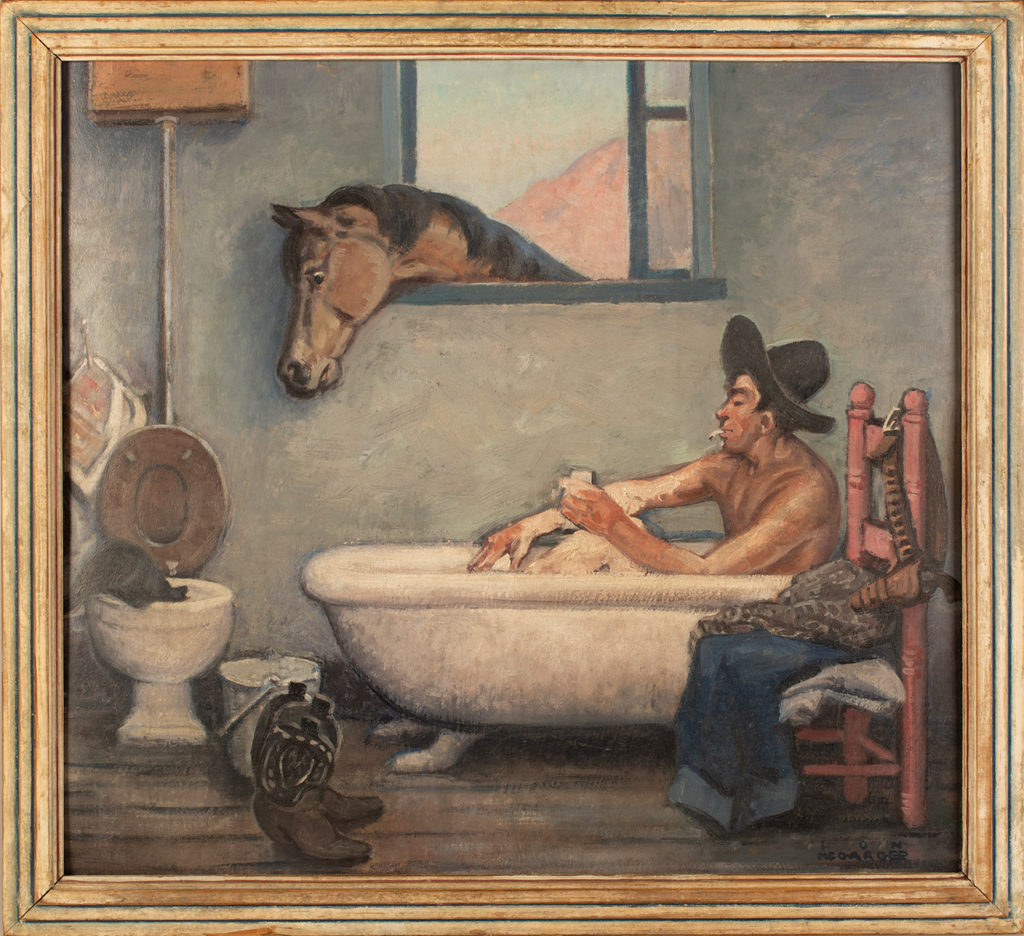 Home on the Range
Home on the Range by Lon Magargee (American, 1883-1960) who was born in Philadelphia in 1883.Megargee was one of the first cowboy artists. Although he was successful as an artist, Megargee's wild cowboy lifestyle usually led him to financial instability. He is well-known for creating iconic images such as the Stetson logo and A-1 beer posters, as well as his collection of paintings commissioned by the State of Arizona. Lon Megargee always felt that Arizona was his true home; near the end of his life, he claimed Tombstone as his birthplace. George W. P. Hunt, the first Governor of the State of Arizona and Megargee's personal friend, would eventually call Megargee "a native Arizonan who has passed his life in the deserts and mountains of our state."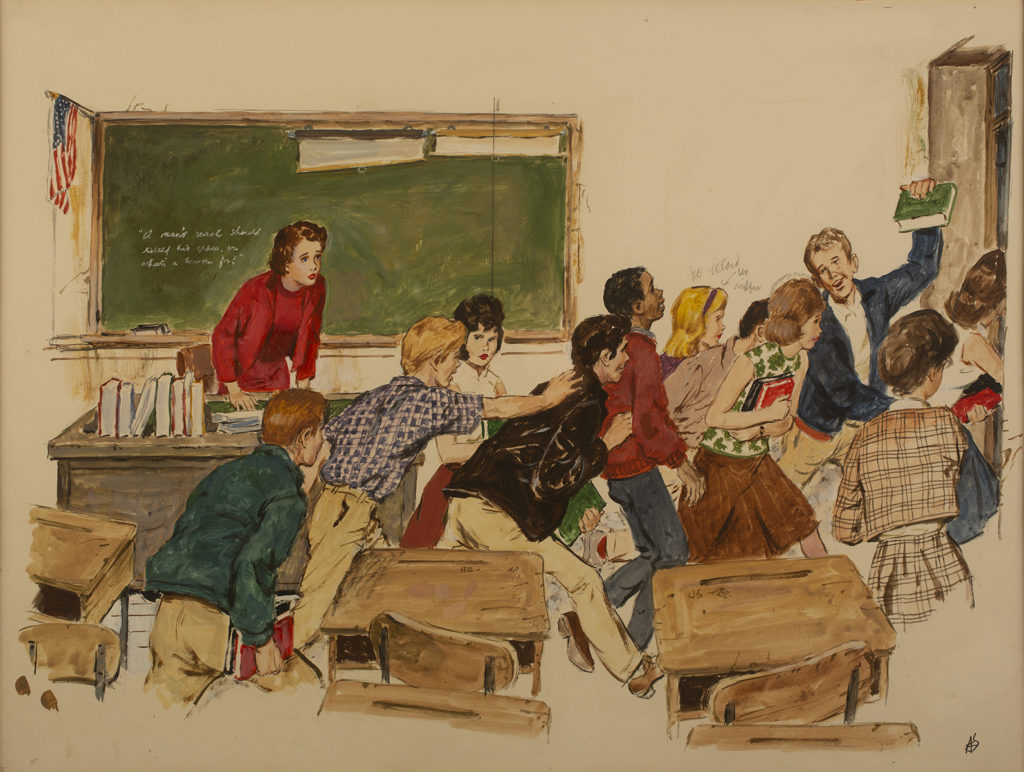 School's Out!
School's Out!, by Amos Sewell (American 1901-1983). Sewell was a prolific illustrator for The Saturday Evening Post and other popular magazines as well as pulp-fiction covers. Here is a rendering for a Post story for late spring, appropriately titled, "School's Out!" showing a rush to the door as the bell rings.